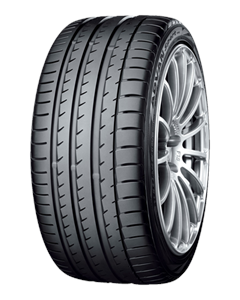 225/40R18 YOKO V105F 92WXL
The ADVAN Sport V105 is Yokohama's Max Performance Summer tire developed for the drivers of high-powered sports cars, sporty coupes and performance sedans. Based on technology fostered through participation in motorsports and development at the Nurburgring Circuit in Germany (one of the world's most grueling race/test tracks), the ADVAN Sport V105 combines an increase in agile handling with a more comfortable ride when compared to its predecessor by featuring precision-tuned materials and structures. Like all summer tires, the ADVAN Sport V105 is not intended to be driven in near-freezing temperatures, through snow or on ice.
ADVAN Sport V105 tires mold a Microsilica and Orange Oil enhanced tread compound that helps the tread rubber remain pliable to improve tire adhesion and grip. The compound is molded into an asymmetrical tread design in which wide outboard shoulder blocks and circumferential ribs work together to promote dry traction and handling. Variable width circumferential grooves and asymmetric lateral notches help reduce noise and promote water flow through the footprint to resist hydroplaning.
There are 12 reviews for V105
Overall rating
Great tyres, I would recommend them